Get In Touch With Experienced Commercial Solar Panel Installers in Scotland
Investing In Commercial Solar Installers In Scotland: Navigating The Cost, Benefits, And Grants Available
In recent years, many companies have been conscious about shifting their energy sources towards more sustainable and renewable alternatives. One prevalent and relatively efficient renewable energy source in Scotland is solar power.
In response to the growing demand, the number of commercial solar installers in Scotland has risen, sparking an interest from various businesses across the country.


The Cost of Investing in Commercial Solar Panels in Scotland


Installing solar panels is a considerable investment. Commercial solar panel installations can cost anything from £1,000 to £8,000 per kWp installed.


While this initial cost might be hefty, it's important to remember that solar panels can save businesses a significant amount of money in the long run by drastically reducing electricity bills.
Why Investing in Solar Energy in Scotland
Scotland may not be known for its sunny weather, but you might be surprised to learn that the country has the potential to generate a significant amount of solar power.


In fact, in certain locations, Scotland gets similar sunlight levels to Germany, one of the world leaders in solar energy production.


Moreover, Scottish policy has been moving towards more sustainable and renewable energy strategies, giving organizations and companies more reasons to invest in commercial solar installations.


Utilizing solar power reduces carbon emissions, aligns with common corporate sustainability goals, and saves money on electricity costs. The combination of these benefits is leading many companies to go solar in Scotland.
Grants Available in Scotland

There are several financial incentives available to companies looking to invest in commercial solar energy in Scotland. The Feed-in Tariff scheme might have closed to new applicants in 2019.
The UK government offers the Smart Export Guarantee (SEG), obliging energy suppliers to pay for renewable energy exported back to the grid. For larger installations, the Renewable Heat Incentive and Contracts for Difference are viable options.
Find Commercial Solar Installers in Scotland that can help you
Scotland has a myriad of reputable solar installers known for their exceptional work and heavy engagement in renewable energy projects.


These companies offer comprehensive services, including solar PV system design, installation, and maintenance.


Some of the top commercial solar installers include Emtec Energy, AES Solar, Forster Energy, and Natural Generation, among others.
Commercial solar panel installation is an Investment for Scottish Business
While the upfront costs of solar panel installation can be relatively high, the long-term financial savings and environmental benefits make solar power a worthwhile investment for businesses in Scotland.
With grants available to help offset costs and numerous experienced commercial solar installers in the region, transitioning to renewable solar energy is now easier than ever.
Commercial Solar Scotland

We can help you find commercial solar panel installers in Scotland and get your new installation finished in two days time from the date everything is finalized.
Read our guide on getting solar panels fitted in your business around Scotland.
Scotland has shown a substantial increase in commercial solar installations over recent years. Many businesses, particularly in urban areas such as Glasgow and the City of Edinburgh, are adopting solar technology as a sustainable energy solution.


Exact numbers are dynamic due to ongoing installations, but the upward trend is unmistakable. Scotland's commitment to renewable energy sources, along with technological advancements and policy support, suggests a bright future for solar power.


As the country continues to strive for a carbon-neutral future, the number of commercial solar installations is anticipated to rise steadily in the coming years.
Choosing commercial solar installers Scotland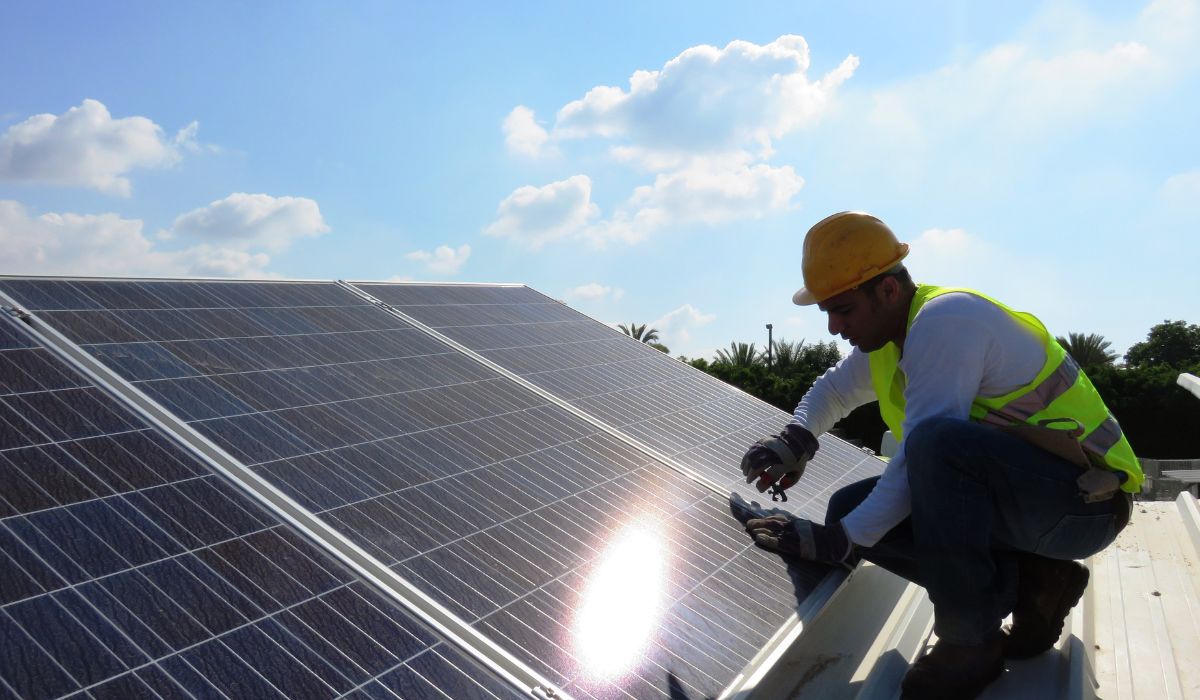 Across Scotland, commercial PV solar panel installers in Scotland are making it easier than ever for businesses to transition to renewable energy.
Commercial solar panel installers Scotland offer comprehensive services, from the initial consultation and site assessment to the design, installation, and maintenance of solar panel systems.


Embracing solar energy not only reduces a business's carbon footprint but can also result in significant savings on energy bills, making it a practical and eco-friendly solution for any commercial enterprise.


Solar energy in Scotland is a rapidly growing industry in Scotland right now, with more and more businesses recognizing the benefits of going solar. In Scotland, there are various grants and incentives available to help cover the initial costs of installing solar panels.


These include the UK government's Renewable Heat Incentive (RHI) and Feed-in Tariff (FiT), as well as local initiatives such as The Low Carbon Infrastructure Transition Programme.


In addition to financial incentives, there are also numerous environmental benefits to switching to solar energy. Solar power produces zero emissions or pollutants, making it a clean and green alternative to traditional fossil fuels.


By reducing reliance on non-renewable resources, businesses in Scotland can contribute towards a cleaner and healthier future for our planet.


Moreover, investing in solar energy can also improve a company's public image and reputation in Scotland. As Scottish consumers become more environmentally conscious, they are actively seeking out businesses that share their values and demonstrate a commitment to sustainability.


By embracing solar energy in Scotland, Scottish companies can differentiate themselves from competitors and attract customers who want to support eco-friendly businesses.
are you ready for Business solar installation in Scotland?
In addition to commercial solar installations, Scotland has also seen a significant rise in business solar panel installations in Scotland. 
This is partly due to government incentives and subsidies on solar panels for business in Scotland, as well as increased awareness of the benefits of renewable energy among homeowners.
advantages of solar power
One of the main advantages of solar power is its ability to reduce carbon emissions and mitigate climate change. By adopting solar technology, businesses and households in Scotland are not only reducing their own carbon footprint but also contributing towards the country's overall goal of becoming carbon-neutral by 2045.


Moreover, solar power offers long-term cost savings for both businesses and individuals. With no fuel costs and minimal maintenance required, it can provide a stable and predictable source of energy at a lower cost than traditional fossil fuels.


This makes it an attractive option for Scottish businesses looking to reduce their energy expenses and individuals looking to lower their electricity bills.


Furthermore, solar power can also provide energy independence. By generating their own clean energy, Scottish businesses are less reliant on the national grid and vulnerable to fluctuations in energy prices. 


This can also help mitigate the effects of power outages and blackouts if you install solar panels for business in Scotland.
Scotland's growing solar technology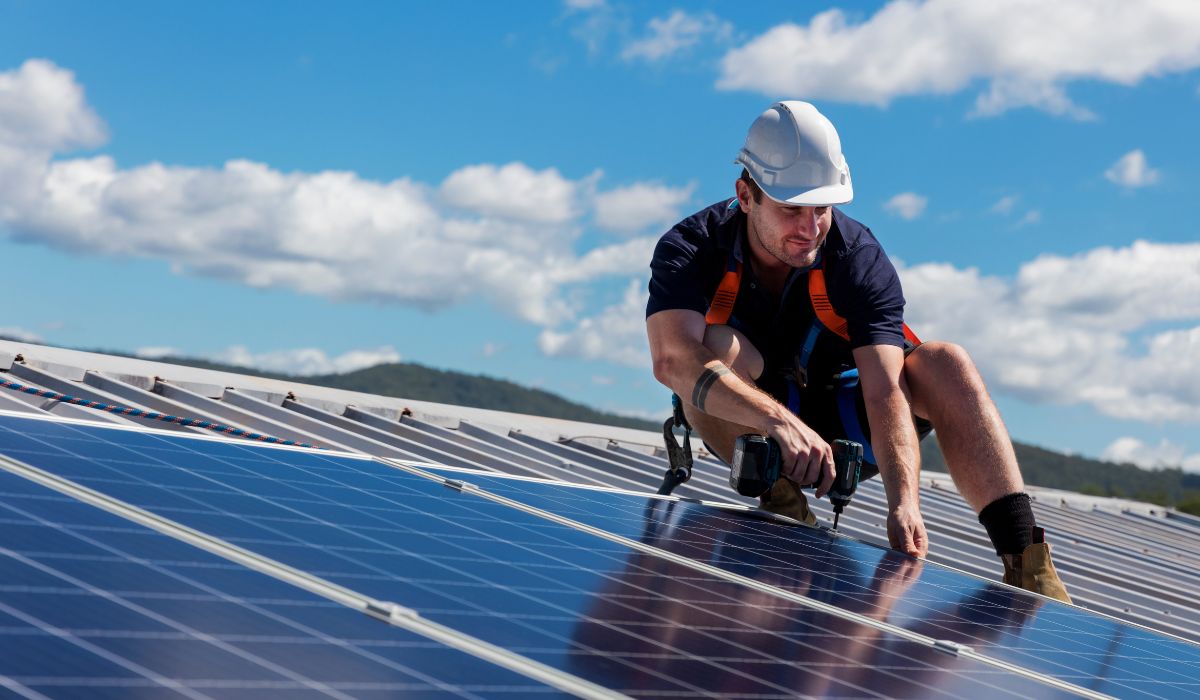 Scotland's growing adoption of solar technology is a positive step towards achieving a more sustainable future. 


As the country continues to invest in renewable energy sources, we can expect to see even more widespread use of solar power in both commercial and residential settings.


With its environmental benefits, cost savings, and potential for energy independence, solar power will continue to play an important role in Scotland's transition towards a greener economy.


So, whether you're a homeowner or a business owner, consider making the switch to solar power and join Scotland in its journey towards a more sustainable future. Let's harness the power of the sun and make a positive impact on our planet for generations to come.
Get quotes from commercial solar installers in Scotland - click here.
find great Commercial Solar Panel Installers in Scotland today
Finding the right commercial solar panel installers in Scotland does play a vital role in helping businesses transition towards renewable energy sources. 
From financial incentives and grand to environmental benefits your company can be proud of to move forward with the governments plan to go make every business rely on solar power by the year 2050.
Click here for up to 4 fantastic quotes from commercial solar panel installers in Scotland.
That includes companies in Glasgow and Edinburgh and Aberdeen and all over Scotland.