The Value of Classic Campervan Insurance?
Good old classic campervan insurance at its best…
If you have an old Peugeot J7 Campervan or something like that you can certainly get cover for it along with a breakdown cover because you may just need it if you've just bought it. Just buying the mean you don't know it yet so breakdown could happen until you sort out mechanical and engine fault if the camper has any, that is?
Here is a list of campervan you can find a policy for when you use the free tools today campervan owners.
Peugeot J7 Camper
1972 Austin A60 Suntor
1982 (X) Mercedes-Benz 307D
Hymer Eribacar Malaga LHD
1977 BEDFORD CF
Bedford Autosleeper
1972 Jennings Mark 1 Ford Transit
As many people can attest to, going online is probably the best option you have if you're looking for campervan insurance. The biggest advantage of going online is that you can compare several companies and brokers with just a few clicks of your mouse.
Comparing different insurance companies and different insurance brokers are extremely important if you own a campervan, because after all, it's nothing like a regular type of vehicle.
Treating Your Van Like a Home
The bottom line is; a campervan is like a cross between a house and a vehicle, in that it can be you'll home one minute and you're transporting the next. Because of this, there are several things you need to take into consideration when you start shopping around for a good insurance policy, bearing in mind that your campervan may be a van, but it's also a small house on wheels.
Are The Contents of The Campervan Covered?
Have you ever stopped for a moment to consider just how much the contents of your campervan are worth? Let's face it; it's probably full of appliances and costly items, including things such as DVD players, the beer fridge, and etc. On top of that, your (X) Mercedes-Benz 307D probably well stocked with personal items and maybe some hiking equipment.
The bottom line is; a campervan is nothing like a regular van, not by any stretch of the imagination. For this reason, you simply cannot afford to rush headfirst into purchasing insurance.
What Age Do You Need to Be for Classic Campervan Insurance?
Something else which you may come up against is that your age can also prove to be a huge hindrance as far as campervan insurance is concerned. For example, if you live in the United Kingdom you probably won't be able to insure a campervan unless you're at least 25 years old.
Who Can Insure Campervans?
People who live in England, Scotland, Ireland or Wales are in a slightly better position, in that you only need to be 21 years old to get a policy all by yourself. Sure you will be able to find a country somewhere in the world where you can drive around in a campervan without even having any insurance like Albania.
If you're honest with yourself, you would want a policy on the van anywhere you go, including Spain and Germany?
Are You Ready for a Classic Campervan Insurance?
And if you would like any other quote for a campervan that wasn't mentioned here you can. Just tell us about the van on the next page and we'll sort you out with a policy you can count on.
Find a classic campervan insurance policy for a BEDFORD CF or any of the vans you see here or not, click here and find excellent cover.
If you have more questions about motorhome insurance or campervan ins you can go to the homepage.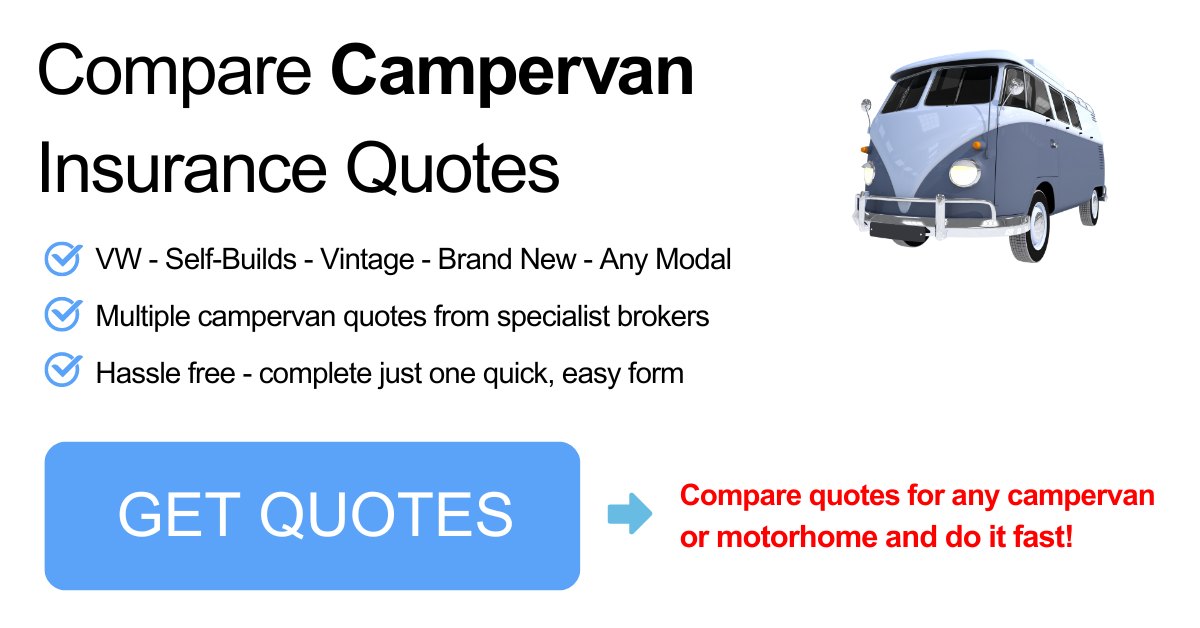 Return to the main campervan insurance homepage.

Sign up to our newsletter