DIAL A DRINK Larbert


DIAL A booze LARBERT



Dial a Drink Larbert Menu
| | | |
| --- | --- | --- |
| Buckfast Tonic Wine - £20 | Eldorado Tonic Wine - £16 | White Wine 13% - £20 |
| Red Wine 13% - £20 | Rose Wine 13% - £20 | Prosecco Wine - £20 |
| Blue Raspberry MD 2020 - £22 | Orange MD 2020 - £22 | Strawberry MD 2020 - £22 |

| | | |
| --- | --- | --- |
| Smirnoff 70cl - £35 or 1L £50 | Glens 70cl - £35 or 1L £45 | Pink Gin 70cl - £35 or 1L £50 |
| Captain Morgan 70cl - £35 or 1L £50 | Jack Daniels 70cl - £40 | Whyte Mackay 70cl - £35  |
| Glengoyne 10 Year Old - £70 | Auchentoshan Single Malt 70Cl - £70 | Glenmorangie  Sle Mlt 70Cl - £75 |

| | | |
| --- | --- | --- |
| Raspberry Sours - £25 | Cherry Sours - £25 | Apple Sours - £25 |
opps, opps, gee me some soops
| | | |
| --- | --- | --- |
| Soops - £6 | Soops - £6 | Soops - £6 |
| | | |
| --- | --- | --- |
| Budweiser 10 Pack - £30 | Stella 10 Pack - £30 | Corona10 Pack - £30 |
| Strongbow 10 Pack - £30 | Strongbow DF 10 Pack - £30 | Fosters 10 Pack - £30 |
| | | |
| --- | --- | --- |
| 20 Club - £20 | 20 Players - £20 | 20 Regal - £20 |
| Elf Bars - £10 | Rolling Tobacco 30g - £30 | ANy fags you want, we'll get for you! |
Salt n Vinegar - £1 Per Pack

Mars Bar - £1

Cheese n Onion - £1 Per Pack

Bounty - £1

Doritoes - £1 Per Pack

Flake- £1
Get your drink delivered straight to your address.  Just text or phone!
---
We accept cash on delivery. If you don't have cash we charge £5 to take you to a close by ATM.
On a Mobile? Just tap the button.
---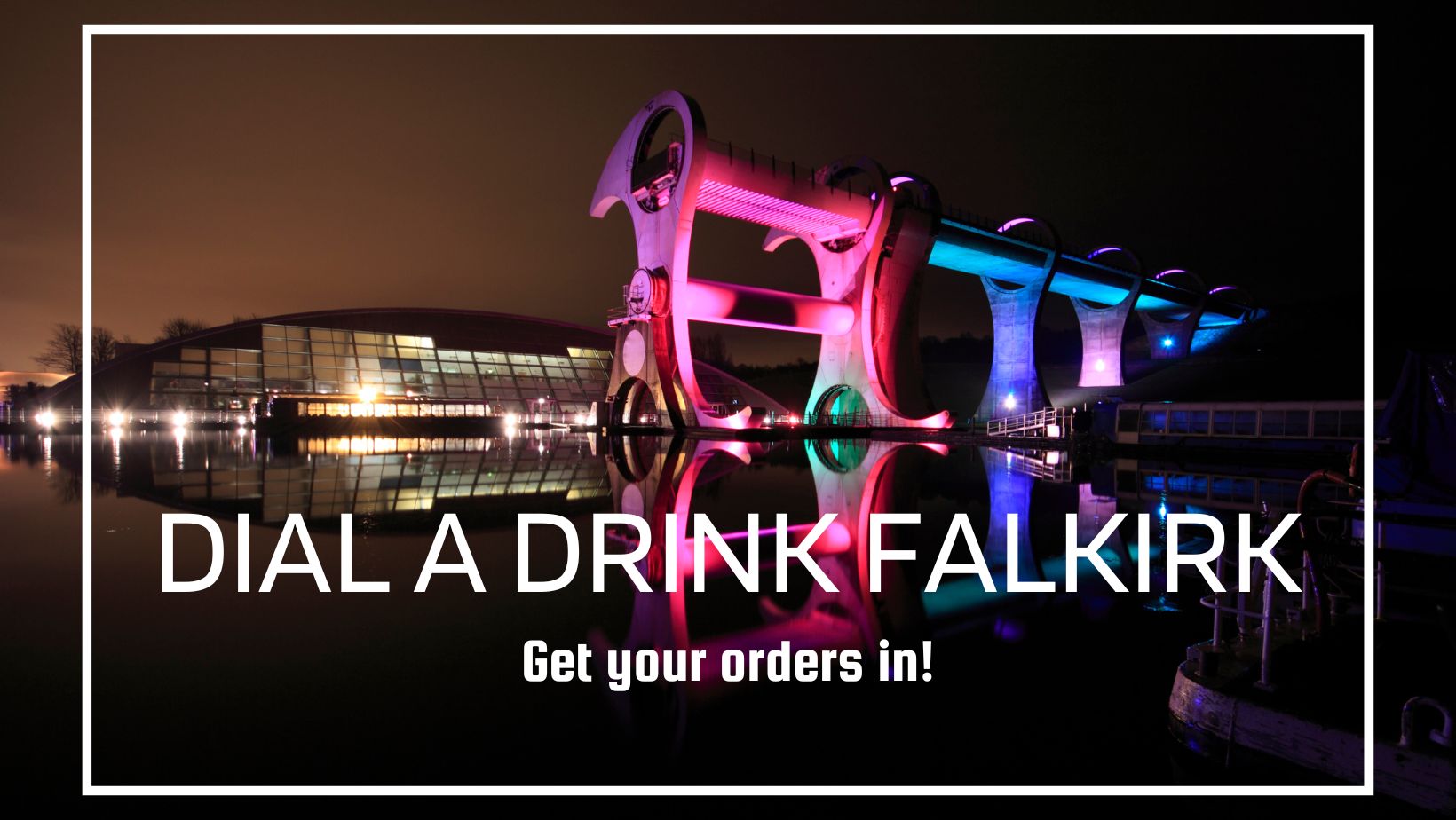 Dial a drink Larbert / DIAL A Booze LARBERT
Welcome to Dial a Drink Larbert, your premier alcohol delivery service in Scotland. We understand that sometimes, you might need a bottle of fine wine for an impromptu dinner or a case of beer for a last-minute gathering.
That's where we come in! Our dedicated team delivers straight to your doorstep, ensuring you never run out of your favourite beverages. For a small fee of £10, you get fast, reliable delivery right when you need it.
So get in there, Larbert drinkers?
Give Dial a Drink Larbert a try and experience the convenience of swift alcohol delivery in Scotland!
Dial a Drink, Larbert in Scotland
Larbert is a charming small town located in the Central Lowlands of Scotland. It finds itself nestled in the Falkirk council area, almost equidistant between Scotland's two major cities, Glasgow and Edinburgh.


Its central location, combined with excellent transport links, including a well-connected railway station, make it a highly accessible and convenient hub.


Whether you're exploring Scotland's rich history or its breathtaking landscapes, Larbert serves as an ideal starting point for your Scottish adventure.
Things to do in Larbert in Scotland

When you find yourself in Larbert, there are plenty of attractions and activities to fill your itinerary. Start at the Carron Dams Local Nature Reserve, a haven for wildlife enthusiasts. Take a leisurely stroll around the reservoirs and immerse yourself in the tranquillity of nature.
For history buffs, the Larbert Old Parish Church, with its historic graveyard, provides an insight into the town's past. Visit the Denny Tank Museum for a step back into the industrial heritage of Scotland.


If you fancy a round of golf, head to the Stenhousemuir Golf Club, situated just a stone's throw away from the town centre. It offers a challenging course and stunning views of the Ochil Hills.


Don't forget to end your day at one of the local pubs, where you can sample traditional Scottish fare and enjoy a pint of local ale. Make sure to try the famous haggis if you're feeling adventurous!
Car Chases in Larbert, Scotland
If you're one for thrills and high-speed action, Larbert's surroundings provide the perfect environment for car enthusiasts. Although peaceful and tranquil, don't let this small town fool you. Its winding roads and undulating countryside are a car chaser's dream.
Every autumn, nearby Bo'ness hosts the Revival Hill Climb, the oldest motorsport venue in Scotland. Here, vintage and classic car enthusiasts can enjoy vintage car races and demonstrations.


For those who prefer a more modern adrenaline rush, Knockhill Racing Circuit, Scotland's national motorsport centre, is just a short drive away. Here, you can watch thrilling car races or even enrol in their racing school to experience a car chase firsthand!
Remember to always respect local traffic laws and ensure safety is a top priority when embarking on any high-speed car chase adventure. This way, you can enjoy the thrill of the chase while preserving the tranquillity and respect of Larbert's community.
Dial a Drink Larbert: Ordering with us!
Stepping out in the world of dating in Larbert presents numerous delightful opportunities. This charming town, with its blend of natural beauty and a sense of community, offers a romantic backdrop for budding relationships.
Start with a stroll in the beautiful Carron Dams Local Nature Reserve, or enjoy a picnic in its serene surroundings. The tranquil setting provides the perfect environment for getting to know each other while enjoying Scotland's natural beauty.


If you and your date are history enthusiasts, a visit to the Larbert Old Parish Church or the Denny Tank Museum could be a unique shared experience. Sharing an interest in the town's heritage can spark intriguing conversations and deepen your connection.


For a more laid-back date, consider a round of golf at the Stenhousemuir Golf Club. The stunning views of the Ochil Hills provide a stunning backdrop for a friendly competition.


Don't forget to end your day with a cosy dinner at one of the local pubs. Here, you can enjoy a hearty meal of traditional Scottish fare and a pint of local ale. Chat, laugh, and create memorable moments that you'll both treasure.
Dating in Larbert, with its blend of tranquillity, history, and community, truly offers a unique romantic experience that you'll not easily find elsewhere.
---
Dial a Drink Larbert, Scotland
If you find yourself hankering for a refreshing beverage in Larbert but don't fancy going out, worry not, the Dial a Drink service has got you covered! This unique service offers a wide variety of alcoholic and non-alcoholic drinks, from local ales and quality wines to soft drinks and mixers, all delivered straight to your doorstep.


Whether you're hosting a gathering, watching a thrilling car race from home, or simply wish to enjoy a quiet night in with a glass of your favourite tipple, Dial a Drink provides a convenient, efficient, and friendly service that caters to your needs. Simply place your order over the phone, sit back, and wait for your drinks to arrive.


Remember, whilst enjoying your beverages, it's important to drink responsibly. The Dial a Drink service is a testament to Larbert's commitment to providing comprehensive services for residents and visitors alike, ensuring a memorable experience in this charming Scottish town.
---
SOME AMUSEMENT IN FALKIRK
---
Hit us up on Social media
---