---
Dial a Drink Menu

 | Lanarkshire

The official Dial a Drink Lanarkshire's delivery menu.
CLICK HERE TO PHONE FROM A MOBILE
---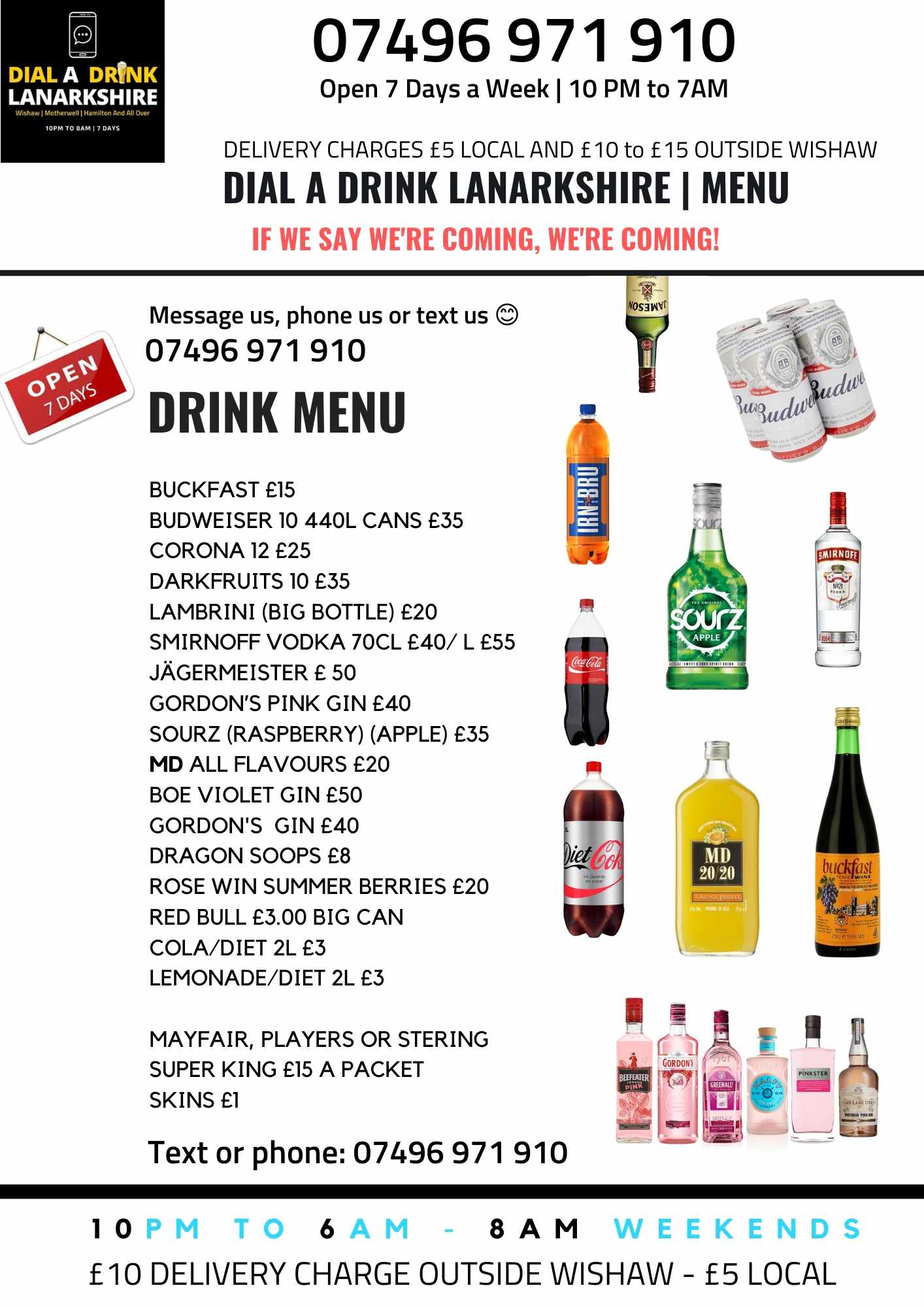 Click here to get a delivery to anywhere in Lanarkshire.
CLICK HERE TO PHONE FROM A MOBILE

---
HOW TO GET A DELIVERY?

It's easy to get a delivery and there is one thing to remember about the dial a drinl phone numbers and that's that they change but the Facebook page does not. So what dial a drink's saying is, "order through Facebook".
TIME FOR DELIVERY?
UP TO 1 HOUR MAX AND CASES 20 MINUTES
Working all over North and South Lanarkshire is where the driver travels to and that includes everywhere, apart from Glasgow.
DELIVERY CHARGE
If you live 10 miles outside the Wishaw or Motherwell area, you'll be charge £10 for delivery.
---
PERSONAL*

> Home Broadband
> Landline Deals
> Car Insurance
> Car warranties
> Travel Insurance
> Phone Contract Deals
> Online Courses
> eBooks

MORE PRODUCTS*

> Business Finance
> Office Space
> Breakdown Cover
> Gadget Insurance
> Premises Insurance
> Business Broadband
> Business Landlines
> Business Communication
> Business Loans
> Hotel Deals
> Wills

ADVERTISING*
> Advertising Opportunities?

KEEP IN TOUCH*

We constantly update your offers from top brands in the UK to bring it straight to you in the way you want it - without the sale scripts and baffling small talk.
That's why our weekly  newsletter has the some of the best offers you can find online as they are hand-picked just for you - honestly!

---
FOLLOW US?

---
 About Us | Blog | Privacy Policy | Advertising | T&C's | HTML Sitemap | XML Sitemap  | Contact Us

---
Registered Office: 256 Main Street, Wishaw, Lanarkshire, ML2 7ND.  Quote forms on UKLI Compare's website are owned and operated by QuoteSearcher Limited who are authorised and regulated by the Financial Conduct Authority - FCA registration number is 504796.
We use tracking cookies, they are very safe, and we use them to make your visit better. Learn why we use cookies by reading our Cookie Policy.
© Copyright 2011-2020 UKLI Compare - United Kingdom Loving It!